Sunday, February 14, 2010
Phil Jones Answers Questions From BBC
Prof Phil Jones of "Hide the Decline" fame, formerly of the CRU (Cimatic Research Unit) at the University of East Anglia was one of the world's leading climate scientists until stood down after the release of the Climategate emails containing evidence of scientific misconduct, subversion of the peer review process and manipulation of evidence.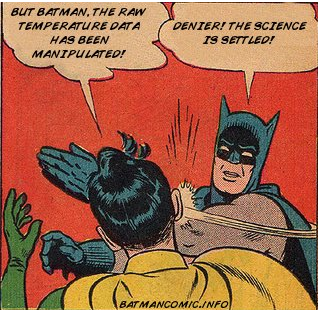 This is the first of a series of posts I will make concerning Prof Jones' responses to the questions put to him by Roger Harrabin of the BBC. Key points from this interview which are
referenced to the responses by Jones from the BBC site
follow:
1. Jones states there has been no statistically significant global warming since 1995 (see response B in the BBC link above). This is an astounding admission. This is a key point raised in debate with alarmists that has up until now been answered with outright denial and derision. Now that this has finally been admitted by the key alarmist, Phil Jones, the lies promulgated up to this point by alarmist scientists who have denied this fact will not hold up.
2. Jones states that recent warming (1975 – 2009) is not unprecedented. Skeptics agree that the globe is warming slightly. The Earth is coming out of a period of cooling (the Little Ice Age). The debate is whether the warming is "man made" not whether there was warming during the 20th century. One key point therefore is whether warming has occurred in the past i.e. is current warming unprecedented. Jones now states that current warming is not unprecedented and is less than some warming events (see response A). He includes the following table in his respnse showing warming since 1975 is not unprecedented even in recent history.
Period: Length: Trend (Deg C per decade): Significance
1860-1880 21 0.163 Yes
1910-1940 31 0.15 Yes
1975-1998 24 0.166 Yes
1975-2009 35 0.161 Yes
3. Jones is asked how confident he is that humans are responsible for recent warming. He responds (response E): "I'm 100% confident that the climate has warmed. As to the second question, I would go along with IPCC Chapter 9 - there's evidence that most of the warming since the 1950s is due to human activity." With billions spent on AGW research he is unable to state a case for man made warming (anthropogenic warming) other than referencing back to the UN IPCC report which is now being attacked daily by the main stream media (which is reporting on earlier research conducted by skeptics) for shoddy referencing to non peer reviewed literature, errors and denial of errors. One could be forgiven for expecting a stronger response in support of man mad global warming under the circumstances. See 5 below for clarification by Jones.
4. Jones is now equivocal on whether the Medieval Warming Period was global in extent or limited to the northern hemisphere.
5. Jones is asked what factors convince him that recent warming is man made and answers by stating that it must be man made because otherwise he can't explain it (see response H). After decades of research this is the evidence we are asked to believe? If it wasn't so pathetic it would be laughable.
6. Jones states that he does not believe the vast majority of climate scientists believe that the debate (on AGW) is over. This would be news to all skeptics and most other people on the planet who have heard of Anthropogenic Global Warming. Consistently we are told that the "debate is over", the "science is settled" and that anyone who does not believe is a "flat earther" or a "denier". Now that the world's former top alarmist has cleared this up no doubt we can be spared such lies in the future from alarmist scientists and politicians with an agenda or a tax to push.
Concluding this first part of my series thus far, Climategate conspirator Phil Jones offers some very interesting insights into his true position on man made global warming and it can fairly be described as weak support for his hypothesis in stark contrast to the unequivocal statements from other so called climate scientists that we have previously touched upon on this blog.
The most surprising admission in the responses examined thus far is that recent global warming is not unprecedented and Jones illustrates other relatively recent periods where warming has equalled or exceeded the rate of 20 century warming. As man cannot have influenced earlier warming prior to the mid 20th century this destroys a central pillar of the man made global warming argument. It acknowledges, finally, that other influences in recent history have affected climate more than man has since the mid 20th century.
Next, Jones accepts that there has been no statistically significant global warming since 1995 and in addition he notes that there has been a negative trend in global temperatures since 2002 of -0.12C per decade although he believes this not to be statistically significant. This seems reasonable given the short time period for the later although I note that alarmists have refused to concede even this much previously. The important point is that Jones is accepting that there has been no warming for over 15 years (since 1995). There goes another argument until now never conceded by alarmist scientists.
Another huge admission is that Jones believes the Medieval Warm Period is open to debate. Anything being open to debate by IPCC scientists is remarkable but this is truly astounding. It goes right to the heart of the entire alarmist camp. I will post separately on this matter as its significance cannot be overstated.
Jones brings nothing to the table to support the theory that man has caused warming since the mid 20th century other than to reference the IPCC. Neither one statement nor one fact does he allude to in support of man made global warming other than to state (response H ) that his support for man made global warming is based on the fact that he cannot explain it.
If that isn't enough for you to immediately be banging on the front door of your local politician demanding answers as to why they are attempting to spend billions and in some cases trillions of your taxes on this scam then come back soon for my next instalment and we will look at further responses by Phil Jones as he deconstructs the entire man made global warming myth that dishonest scientists and politicians have been gleefully shoving down our collective throats.
Let the sackings begin, the SS Anthropogenic Global Warming, previously flooding now has foredecks awash. The rats are in a panic. It will be interesting to watch these crooks and liars now change tack and reconstruct. They will deny they said many things but fortunately with several millions of pairs of eyes now firmly fixing upon them there will be nowhere for them to run. Indeed I have seen statements by catastrophic alarmists recently who now state that we should not overstate the alarm. I'll post on those highly placed liars as well.
UPDATE: Comic graphic is by
Borepatch. Thank you Borepatch!
Borepatch is listed in my links section and is a blog I read daily.
Posted by

Charles
at 10:32 PM