Monday, January 25, 2010
Lord Monckton landed in Sydney, Australia on the 21st January and immediately jumped another aircraft to fly 4,000 km to Perth, West Australia where he met with Jo Nova and others at a skeptics social event.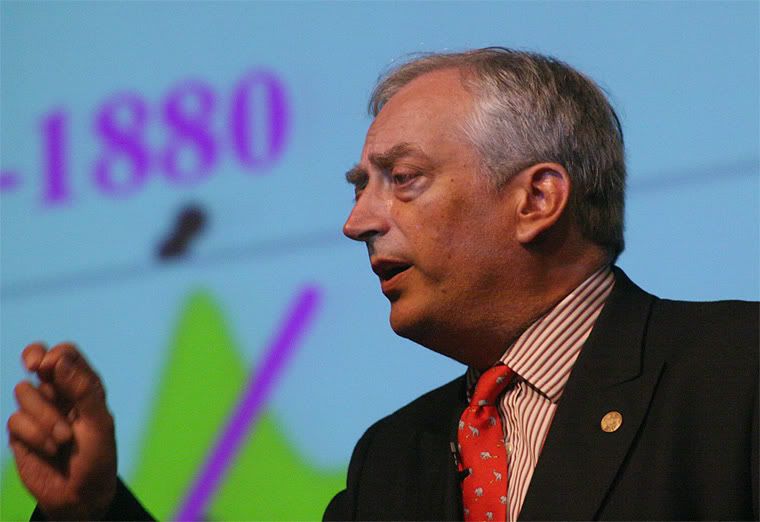 Highlights of his schedule follows:
January 24 Radio interview Ian Plimer on 2UE 11 am
January 25 Radio interview with Alan Jones, 2GB Radio 7-9am
January 26 Radio interview with Brian Wilshire, 2GB Radio 10-11.59pm
January 27 - Sydney 12.30pm Union Club Lunch
January 27 - Sydney $20 5.30pm Grand Ballroom, The Sheraton on the Park, Elizabeth Street.
January 28 - Newcastle $2 12:30p.m. Pay at the door.
VENUE: The Banquet Room, Newcastle City Hall, King St, NEWCASTLE.
January 29 Radio Interviews with 4BC(between 4-6pm) and United Christian Broadcasters
- Brisbane 12.30pm Lunch Grand Ballroom Hilton Hotel
Queens Street - ($130) See attached pdf flyer climate-debate-brisbane
To book, Damian Wyld, thomasmore@chariot.net.au, Ph 08 8379 0246
January 29- Brisbane 3pm Brisbane Irish Club, Tara Ballroom
January 30 - Noosa $20 The J in Noosa Junction @2p.m. Payment at the door
February 1 - Melbourne $20 luncheon, 12.00 for 12.30, will be held at 6/112 Millswyn St, South Yarra: (RSVP no later than c.o.b. on Thursday, January 28, by email to ipe_2@bigpond.com)
February 1 -5.30 Melbourne $20 "Town Hall Meeting," Venue Sofitel Hotel Grand Ballroom. contact: Case Smit case.smit@gmail.com
February 3 - Canberra -3pm- Address at National Press Club, Canberra
February 5 - Adelaide 5.30 Public lecture Intercontinental Hotel (formerly Hyatt)
North Terrace
February 8 - Perth Lunch - Parmelia Hotel
- Perth 5:30pm "Town Hall Meeting" Parmelia Hilton, 14 Mill Street, Perth.
To cover costs a "donation" of $10pp will be collected at the door.
Assorted homemade biscuits, coffee & tea provided.
Please email: Daphne Dhimitri daphne_dhimitri@hancockprospecting.com.au
or Ph: (61 8) 9429 8248 l Fax: (61 8) 94298268
Before attending any events please confirm details with John Smeed johnsmeed@adna.com.au as details may change.
The next week or two should be very entertaining as we watch our PM, Kevin Rudd, trying to avoid Monckton and stay silent on AGW. Rudd is currently galavanting around Australia beating the election drum already but I would bet a substantial sum he will maintain his mute stance on climate change as he has done since emerging from his failed COP15 fiasco. He will blab on as usual about grand schemes, fail to spell out any viable action, and studiously continue to ignore "the greatest moral issue of our time" (as he has stated) ie. AGW! He will also be trying to hush up his his personal tour of Pachauri's TERI facility, the photos of hand shakes with the carbon conman and those pledges of millions of dollars (h/t Bulldust on WUWT).
Your pathetic Kev; just pathetic. I feel somewhat sorry for Penny Wong and Julia Gillard having to cover for you when the going gets tough.
Posted by

Charles
at 11:30 PM